18
Apr
2013
The adornment of flowers are essential in Chinese festivals. During these festivals, copious amounts of flowers cover the buildings and streets. Outside of these festivals, flowers are often given as gifts on special occasions. As symbols of love and happiness, flowers are welcomed by everyone. However, few people notice the flower market or flower suppliers behind the trucks of flowers used for big events and festivals in China.
China has a long history of floriculture. A large number of traditional flowers from a variety of regions in China develop a rich culture of flowers in the culture. These include the peony in Luoyang, the plum blossom in the Yangtze River basin, the canellia in Jiangsu and Zhejiang, and several others. In Ming and Qing Dynasties, Hua Xiang, a region within Beijing, became the base for flower production made exclusively for the court. Farmers in Canton, at that time, began to produce 'Nian Hua', a flower sold on the streets and began the commercialization of local flowers in the country. After China reformed its import policies, foreign flowers have rushed into the Chinese market. This influx of foreign business helped shape the formal flower industry by infusing foreign business concepts and cultivation techniques to the industry.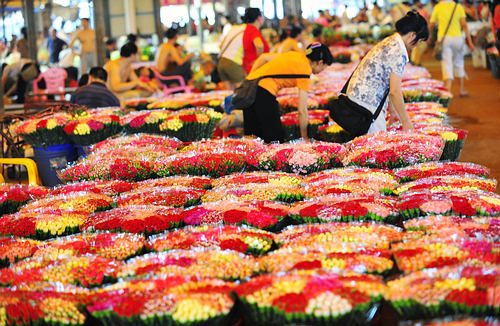 The current state of Chinese flower market
A study conducted by the Chinese Ministry of Agriculture in 2005 shows that there were 64,908 companies in China at the time, including 8,334 large and medium-sized companies with a planting area of at least 3 hectares or with an annual turnover of 5 million yuan. The study also reveals that there were 1,251,313 florists, 4,401,098 employees, and 132,318 technical experts in the Chinese flower industry. Although florists do not have the industrial and commercial registration the large companies own, their production sales and output are not any lower.
Three obstacles in Chinese flower industry
However, the Chinese flower market is less competitive than other international markets such as that of Holland which is famous for flower production. This is due to three main reasons.
First is the lack of innovation in the development of new species. For flower production companies in most countries, it is important to cultivate new strands of species to differentiate their flowers and increase their sales. China has both the resources and ability to do this, but the lag of protection for new varieties has prevented companies from doing so.
Second is the lack of large production companies. The majority of the farmers in China only hold small production areas and usually the employees consist of family members. Most families of Chinese flower farmers consist of 2-3 people making an annual revenue of only a couple tens of thousands of RMB. The number of the farmers is only 20 times that of the number of firms. Furthermore, only 8,334 large and medium-sized companies exist among 64,908 firms, making up only 13% of the total . Unlike most large countries, no firm dominates the industry, the production areas are small, and the revenues are are even smaller.
Third is the lack of marketing channels. In China, flowers are generally sold at fairs and small shops. These traditional sales methods are not big enough to help the industry grow. Bigger firms need to use professional flower marketing companies and online sales, but not many do so in China.
More on China Marketing Research
Sources:
Picture: Chinese flowers